Situs inversus and ciliary abnormalities: 20 years later, what is the connection?
Received: 18 August 2014
Accepted: 26 November 2014
Published: 14 January 2015
Abstract
Heterotaxy (also known as situs ambiguous) and situs inversus totalis describe disorders of laterality in which internal organs do not display their typical pattern of asymmetry. First described around 1600 by Girolamo Fabrizio, numerous case reports about laterality disorders in humans were published without any idea about the underlying cause. Then, in 1976, immotile cilia were described as the cause of a human syndrome that was previously clinically described, both in 1904 by AK Siewert and in 1933 by Manes Kartagener, as an association of situs inversus with chronic sinusitis and bronchiectasis, now commonly known as Kartagener's syndrome. Despite intense research, the underlying defect of laterality disorders remained unclear. Nearly 20 years later in 1995, Björn Afzelius discussed five hypotheses to explain the connection between ciliary defects and loss of laterality control in a paper published in the International Journal of Developmental Biology asking: 'Situs inversus and ciliary abnormalities: What is the connection?'. Here, nearly 20 research years later, we revisit some of the key findings that led to the current knowledge about the connection between situs inversus and ciliary abnormalities.
Keywords
Situs inversus CiliaLeft-right organizerNode Nodal Nodal flowTwo cilia modelPlanar cell polarityMotile ciliaSensory cilia
Conclusions
This review attempted an historical overview of key publications and experiments that influenced the direction of research and led to our current knowledge connecting the curious link between
situs inversus
and ciliary abnormalities (Figure
3
). Of course numerous excellent additional studies exist, which added even more details to this knowledge regarding ciliary structure and function necessary for proper axis development. In addition, a large number of genes influencing node and ciliary structure and function have been identified. Among these, the largest group of genes influences nodal ciliogenesis (ranging from complete absence to short or abnormal cilia) (Additional file
1
, Table S1). Another large group of genes influences nodal morphology and shape including orientation of cilia (PCP) necessary to generate the directed leftward flow (Additional file
1
, Table S2). A third subset of genes has been shown to cause axonemal defects resulting in dyskinetic cilia and PCD (with or without heterotaxy) (Additional file
1
, Table S3). Interestingly, several PCD-causing genes, to the best of our knowledge, do not cause laterality defects in either humans or mouse models but their analyses nonetheless aid to understand the structure of nodal cilia (Additional file
1
, Table S4).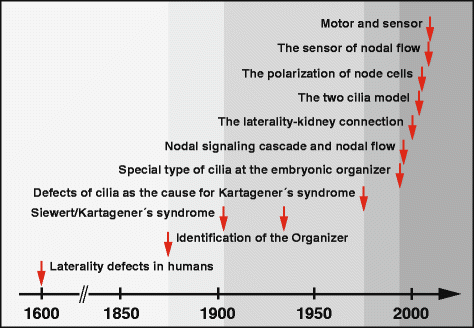 We can only speculate how Bjorn Afzelius, who died April 27 2008, would view the tremendous advances in molecular and genetic research that have convincingly linked ciliary function at the node to LR-axis development and, amazingly, confirmed his hypothesis from twenty years before.
We can anticipate that combined efforts by clinicians and basic researchers as well as the brisk pace of advancements in genetic analyses and modification of animal models will bring even greater understanding of how ciliary function influences LR-axis development and we are looking forward to the advancements in this field.
Abbreviations
ADPKD:

autosomal dominant polycystic kidney disease
AP:

anterior-posterior
ARPKD:

autosomal recessive polycystic kidney disease
BicC :

Biccaudal C
Bpk :

BALB/c polycystic kidneys
Cpk :

Congenital polycystic kidneys
Dnah11 :

Dynein, axonemal, heavy chain 11
DNAH5 :

Dynein, axonemal, heavy chain 5
DV:

dorso-ventral
Dvl :

Disheveled
E:

embryonic day
GALNT11:

N-acetylgalactosamine-type O-glycosylation enzyme
GFP:

green fluorescent protein
GRP:

gastrocoel roof plate
Ift88 :

Intraflagellar transport 88
Inv :

Inversion of embryonic turning
Iv :

Situs inversus viscerum
Jck :

Juvenile cystic kidneys
KIF3A:

Kinesin family member 3A
KIF3B:

Kinesin family member 3B
KS:

Kartagener's syndrome
LPM:

lateral plate mesoderm
LR:

left-right
Lrd :

Left/right-dynein
Orpk :

Oak Ridge Polycystic Kidney
PCD:

primary ciliary dyskinesia
PCP:

planar cell polarity
pcy :

Polycystic kidneys
Pitx2 :

Paired-like homeodomain transcription factor 2
PKD:

polycystic kidney disease
PKD1 :

Polycystic kidney disease gene 1
PKD2 :

Polycystic kidney disease gene 2
PNC:

posterior notched
RAC1:

RAS-related C3 botulinum substrate 1
TGF:

transforming growth factor
Vangl :

Van Gogh like
Wnt:

Wingless-type MMTV integration site family
Declarations
Acknowledgements
All studies presented here and numerous excellent studies not cited within this review for which we apologize helped us to understand a little part of laterality development, cilia structure and function and associated diseases. This gain of knowledge is due not least to the combined efforts of clinicians and basic researchers, the still improving methods to genetically modify and analyze model organisms for functional analysis and the brisk pace of advancements in genetic analysis. The authors thank Martina Brueckner who kindly provided lrd-gfp mice. The authors thank colleagues for continuous discussions, especially Heymut Omran, Gerard W. Dougherty and Niki T. Loges. PP is funded by a research grant of the Deutsche Forschungsgemeinschaft (DFG OM 6/5), TB is funded by a research grant of the Deutsche Forschungsgemeinschaft (DFG OM 6/4), research in the lab of HH is funded by Core Research for Evolutional Science and Technology (CREST) of the Japan Science and Technology Corporation (JST).
Authors' Affiliations
(1)
Department of General Pediatrics, University Children's Hospital Muenster, Muenster, Germany
(2)
Department of Human Genetics, University Hospital Muenster, Muenster, Germany
(3)
Graduate School of Frontier Biosciences, Osaka University, Osaka, Japan
Copyright
© Pennekamp et al.; licensee BioMed Central. 2015
This is an Open Access article distributed under the terms of the Creative Commons Attribution License (http://creativecommons.org/licenses/by/4.0), which permits unrestricted use, distribution, and reproduction in any medium, provided the original work is properly credited. The Creative Commons Public Domain Dedication waiver (http://creativecommons.org/publicdomain/zero/1.0/) applies to the data made available in this article, unless otherwise stated.