Multiple essential roles for primary cilia in heart development
Received: 14 June 2012
Accepted: 18 October 2012
Published: 11 December 2012
Abstract
Background
The primary cilium is a microtubule-based, plasma membrane-ensheathed protrusion projecting from the basal bodies of almost all cell types in the mammalian body. In the past several years a plethora of papers has indicated a crucial role for primary cilia in the development of a wide variety of organs. We have investigated heart development in cobblestone, a hypomorphic allele of the gene encoding the intraflagellar transport protein Ift88, and uncovered a number of the most common congenital heart defects seen in newborn humans.
Methods
We generated serial sections of mutant cobblestone and wild type embryos in the region encompassing the heart and the cardiac outflow tract. The sections were further processed to generate three-dimensional reconstructions of these structures, and immunofluorescence confocal microscopy, transmission electron microscopy, and in situ hybridization were used to examine signal transduction pathways in the relevant areas. Whole mount in situ hybridization was also employed for certain developmental markers.
Results
In addition to an enlarged pericardium and failure of both ventricular and atrial septum formation, the cobblestone mutants displayed manifold defects in outflow tract formation, including persistent truncus arteriosus, an overriding aorta, and abnormal transformation of the aortic arches. To discern the basis of these anomalies we examined both the maintenance of primary cilia as well as endogenous and migratory embryonic cell populations that contribute to the outflow tract and atrioventricular septa. The colonization of the embryonic heart by cardiac neural crest occurred normally in the cobblestone mutant, as did the expression of Sonic hedgehog. However, with the loss of primary cilia in the mutant hearts, there was a loss of both downstream Sonic hedgehog signaling and of Islet 1 expression in the second heart field, a derivative of the pharyngeal mesoderm. In addition, defects were recorded in development of atrial laterality and ventricular myocardiogenesis. Finally, we observed a reduction in expression of Bmp4 in the outflow tract, and complete loss of expression of both Bmp2 and Bmp4 in the atrioventricular endocardial cushions. Loss of BMP2/4 signaling may result in the observed proliferative defect in the endocardial cushions, which give rise to both the atrioventricular septa as well as to the septation of the outflow tract.
Conclusions
Taken together, our results potentially identify a novel link between Sonic hedgehog signaling at the primary cilium and BMP-dependent effects upon cardiogenesis. Our data further point to a potential linkage of atrioventricular septal defects, the most common congenital heart defects, to genes of the transport machinery or basal body of the cilia.
Keywords
Primary ciliaHeartOutflow tractAortaPulmonary trunkEndocardial cushionsAVSDNkx2.5Pitx2cIsl1Hand1Alpha-actininBmp2Bmp4ShhCardiac neural crest
Background
In the mouse cardiogenesis begins at embryonic day 7.5 (E7.5) by migration of the anterior lateral plate mesoderm towards the midline, where it forms a linear heart tube. This primary heart field gives rise to both the left and right atria and the left ventricle. The linear heart tube undergoes looping at E8.5, and during this stage a population of pharyngeal mesoderm-derived cells, the second heart field, contributes to myocardial as well as endocardial components of the right ventricle, the interventricular septum, the venous pole, and the base of the outflow tract (OFT) [1]. After birth, the task of directing oxygenated and deoxygenated blood to the systemic and pulmonary circulatory systems, respectively, is carried out by the OFT. In humans, congenital heart defects occur in almost 1% of newborns and defects in OFT development are some of the most severe heart abnormalities [2]. The OFT consists initially of cells from the heart tube but a major contribution is made later by cells of the anterior heart field and cardiac neural crest cells (cardiac NCC) [3]. Cardiac NCC represent a subpopulation of the cranial neural crest and originate from an area beginning around the middle of the otic placode to the caudal border of somite 3, corresponding to rhombomeres 6–8 [4]. Together these two populations generate a septated ascending aorta and pulmonary trunk during cardiogenesis.
At E10.5 the heart has acquired well-formed chambers, and cardiac NCC migrate to the OFT [5]. Cardiac NCC migrate into the endocardial cushions, which are derived from the heart endocardial layer, and together these two populations form the septum that divides the OFT into systemic and pulmonary outlets. The septum of the OFT starts as a shelf-like structure at the distal end of the OFT. The shelf develops between the fourth aortic arch artery (the future aorta) and sixth aortic arch artery (the future pulmonary trunk), and it expands proximally from the distal end. Cardiac NCC are important for a proper septation process of the OFT and for patterning of the great vessels [6, 7]. Cardiac NCC also contribute to the septation process between the left and right ventricles and atria [8] that occurs between E10 and E13 [9]. By E14.5 the heart chambers are completely septated and are connected to the pulmonary trunk and aorta.
Cilia are 1 to 3 μm long protrusions of most cell types in vertebrates, which grow out from a centriole-based basal body located in the cytoplasm, bear a microtubule-based axoneme [10], and are coated by the plasma membrane. Primary cilia possess an intraflagellar transport system (IFT) for proteins and other cargo to travel in and out of the cilium. The IFT proteins act as scaffolds between the protein cargo and the motors kinesin-II and dynein, which are responsible for antero- and retrograde transport, respectively [11]. Primary cilia have recently been revealed as crucial for the development of a number of organs (reviewed in [12]). A clinical correlate of the developmental studies has been the re-definition of a wide variety of human syndromes as 'ciliopathies', because the defective genes in question encode proteins that localize to the basal body or the cilium, including Bardet-Biedl, Meckel-Gruber, Alstrom, Joubert, orofaciodigital, and Senior-Loken syndromes, as well as nephronophthisis and polycystic kidney disease (PKD) (reviewed in [13]). In particular, primary cilia are essential for signal transduction of the Hedgehog (Hh) pathway. The three ligands of the Hh family bind to the inhibitory receptor Patched, which, in the absence of Hh ligands, localizes to primary cilia. Upon exposure to ligand, Patched and its ligand move out of the cilium and become internalized within the cytoplasm. In turn, the Hh signal-promoting receptor Smoothened enters into the cilium and executes a proper transduction of Hh signals [14, 15].
The recessive mouse mutant cobblestone (cbs) bears a hypomorphic allele of the gene Ift88[16], leading to a reduction of Ift88 mRNA and protein levels in cbs embryos by 70% to 80% compared to wild type littermates. Ift88, a component of the IFT system, is essential for the formation and maintenance of primary cilia [17]. Cobblestone mutants show a wide range of defects in the central nervous system that are at least partially explained by a deficiency in Sonic hedgehog (Shh) signaling [16]. This prompted us to examine cardiogenesis in this mutant mouse line, as Shh signaling contributes to several important aspects of heart development, including atrioventricular and OFT septation [18–23]. We show that cbs embryos display several malformations in cardiac development between E12.5 and E16.5, including interventricular- and interatrial septum defects, persistent truncus arteriosus, arteria lusoria, and pericardial hyperplasia. In this paper, we provide evidence that loss of cardiac cilia correlated with deficiencies in the expression of genes known to be important for OFT and atrioventricular septation, and we present a mechanistic explanation for these phenotypes.
Methods
Mouse lines
All experiments were conducted according to the guidelines of the state of Baden-Württemberg, Germany. Cobblestone mice were generated as described [16]. Twelve noon of the day of the vaginal plug was assigned the date embryonic day 0.5 (E0.5). For all embryonic stages before E12.5, somite-matched embryos were compared for analysis as follows: E9.5: 21 to 29 somites, E10.5: 35 to 39 somites; E11.5: >45 somites [24]. Genomic DNA was isolated from embryonic and adult tissue as described [25]. For PCR genotyping the following primers were utilized (D14Mit121 F: 5′-TTG ACA TCT GGA TAT GAC AAT GC-3′; D14Mit121 R: 5′-TGT GCA TGT TTG TGT ACA TAT GTG-3′; D14Mit259 F: 5′-TGG TGT CTC CTT CGG AAT TT −3′; D14Mit259 R: 5′-TAA ATG TAA AAG GTA AAG GCA ATG G-3′) and PCR products were resolved using 12% acrylamide gel electrophoresis.
Transmission electron microscopy
E12.5 mouse embryos were collected in cold PBS and fixed overnight (O/N) at 4°C with 2.5% glutaraldehyde in 0.1 M PIPES buffer, pH 7.6, containing 2% polyvinylpyrrolidone (MW 25000, Merck, Darmstadt, Germany). Transverse sections (300 μm-thick) of the trunk were prepared using a vibratome (D.S.K. Microslicer DTK-1000, Dosaka EM, Kyoto, Japan). For enhancement of membrane staining, samples were incubated in alkaline diaminobenzidine hydrochloride medium as described previously [26] for 60 minutes, and postfixed with 1.5% osmium tetroxide containing 1.5% potassium ferrocyanide for one hour followed by an additional one hour osmification with 1.5% osmium tetroxide in 0.1 M sodium cacodylate buffer. Finally, the slices were stained en bloc in 1% uranyl acetate for 30 minutes, dehydrated through a graded ethanol series and embedded in Epon 812 (Fluka 45345). Series of semithin sections were stained with a modified Richardson methylene blue-azure II solution and used for selection of corresponding areas in wild type hearts. Ultrathin sections were stained with lead citrate and analyzed by electron microscopy using a Zeiss EM 906E.
Hematoxylin & eosin (H & E) staining
Mouse embryos of different stages (E12.5 to E16.5) were fixed O/N with freshly-prepared 4% paraformaldehyde (PFA) in 0.1 M PBS at room temperature (RT), dehydrated in a graded ethanol series and embedded in paraffin. Serial paraffin sections (5 or 10 μm-thick) were treated for 2x 5 minutes with xylol, rehydrated in a descending ethanol series, and washed with distilled H2O (dH2O). The sections were stained with hematoxylin for 8 to 10 minutes, rinsed briefly in dH2O and 15 minutes in tap water. The sections were briefly rinsed in dH2O before staining in 0.1% Eosin, rinsed several times in dH2O, dehydrated in an ascending ethanol series, treated for 2x 5 minutes with xylol, and embedded in Entellan (Merck).
Three-dimensional OFT reconstruction
The OpenCAR software ([27]; available from http://opencar.ulster.ac.uk) was used for the three-dimensional reconstruction of the outflow tract of E14.5 old wild type and mutant embryos. The reconstruction was undertaken as previously described [28] with the following modifications. Light micrographs of H & E stained serial sections of the thorax were aligned manually using prominent structures in two adjacent images as landmarks. Subsequently, the individual vasculature was manually traced in each section, which resulted in a set of contours representing each of the components of the outflow tract. The contours were three-dimensionally reconstructed by applying the Delauny method [27], generating renderings that were then exported. Amira 5.3.1 software (Visage Imaging, Richmond, Australia) was used for visualization of the exported three-dimensional reconstructed structures.
For the three-dimensional OFT reconstructions shown in Figure 
3
and Additional file
1
, serial sections were photographed and printed and transferred to balsa wood discs (1:60 magnification). The resulting models were then photographed and sketched with close reference to the photographs and the original micrographs. The vertical axis was artificially exaggerated by a factor of three in order to simplify understanding.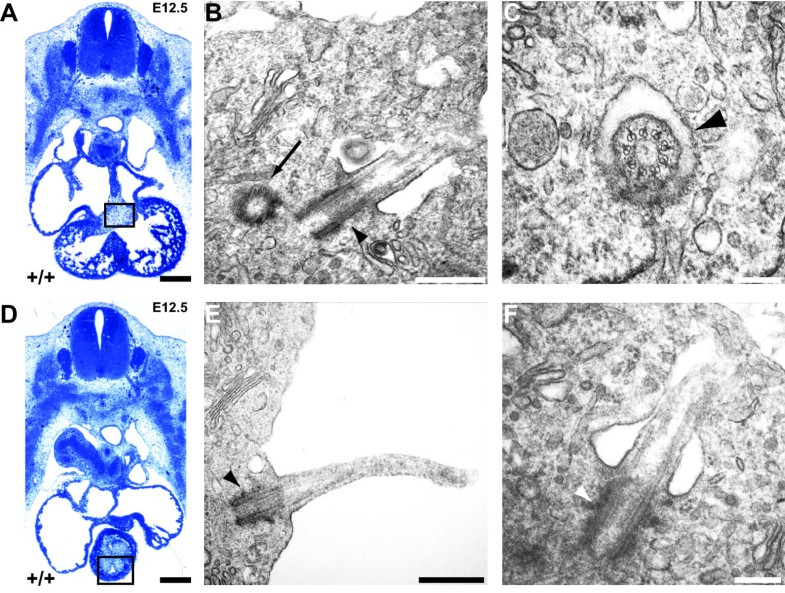 Immunohistochemical analysis
E10.5 to E12.5 old mouse embryos were collected in cold 0.1 M PBS, and embryonic tail samples were collected separately for DNA extraction and genotyping. The embryos were fixed O/N at 4°C in 4% PFA in 0.1 M PBS. After rinsing in 0.1 M PBS for 2 × 30 minutes the embryos were treated in an ascending sucrose series (10%, 20%, and 30% in 0.1 M PBS) and mounted in optimal cutting temperature (OCT) embedding medium (Leica Microsystems, Wetzlar, Germany). Stainings of 10 μm to 12 μm cryosections were performed as described [29] with the following primary antibodies: anti-acetylated alpha tubulin (clone 6-11B-1, Sigma, Munich, Germany) 1:1000; anti-gamma tubulin (clone GTU-88, Sigma) 1:1000; anti-phosphorylated histone H3 (Ser10, rabbit 06 –570; Millipore Corporation, Schwalbach am Taunus, Germany) 1:200; anti-cleaved caspase-3 (Asp175, #9661, 1:200; Cell Signaling Technology, Danvers, Massachusetts, USA) 1:200; anti-p75 [30] 1:500; anti-AP2α (clone 3B5, Developmental Studies Hybridoma Bank, Iowa City, Iowa, USA) 1:50; anti-α-actinin (clone EA-53, Sigma) 1:2000; anti-Arl13b (kind gift of Tamara Caspary, Atlanta, Georgia, USA) 1:1500; anti-Ift88 (ab42497, goat polyclonal, Abcam plc, Cambridge, England) 1:500; anti-Islet 1 (clone 39.4D5, Developmental Studies Hybridoma Bank) 1:1000. Secondary antibodies were employed as described [29], with the exception that for colabeling experiments to detect cilia, the anti-acetylated alpha tubulin and the anti-gamma tubulin antibodies were detected with isotype-specific anti-mouse immunoglobulin G1 (IgG1) and IgG2b secondary antibodies, respectively. All secondary antibodies were purchased from Invitrogen, Darmstadt, Germany.
Statistical analysis
To analyze the data presented in Figure 
2
, Student's t-test was used, using two tailed, two-sample equal variance settings in Excel (Microsoft Office 2010).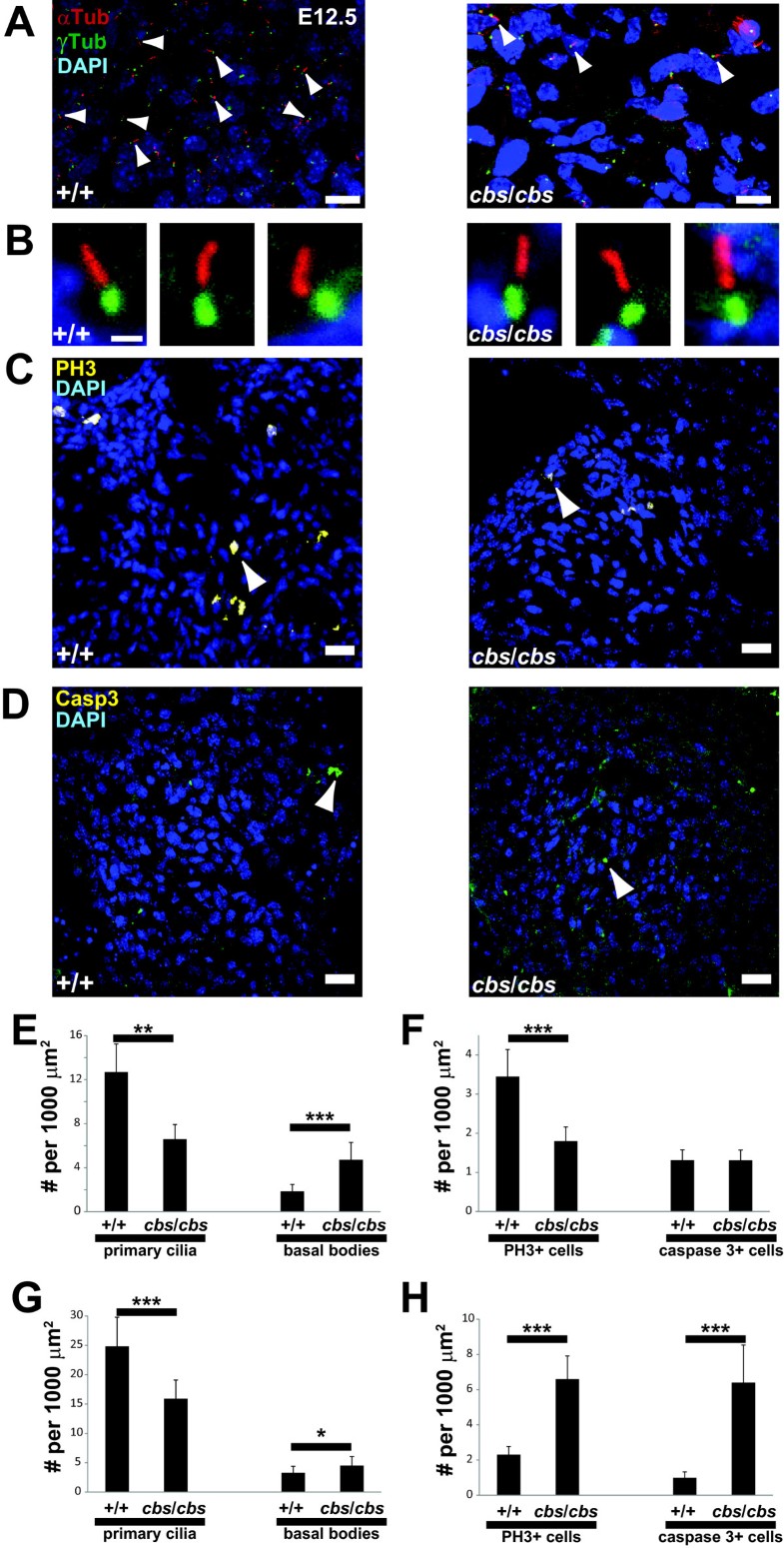 In situhybridization
In situ hybridizations on cryosections were performed as described [31]. In situ hybridizations on paraffin sections were performed as described [16]. Probes: Bmp2 & Bmp4[32], Pitx2c (kindly provided by Axel Schweickert).
Whole mount in situhybridization (WISH)
E10.5 mouse embryos were collected in cold 0.1 M PBS, and embryonic tail samples were collected separately for PCR genotyping. The embryos were fixed O/N at 4°C in 4% PFA in 0.1 M PBS. PFA was washed out with 0.1 M PBS, the embryos were dehydrated in an ascending methanol series, kept O/N in 100% methanol at −20°C, and then rehydrated in a descending methanol series. The embryos were washed 2× with 1× PBST (0.1 M PBS; 0.1% Tween-20) for 5 minutes, bleached for 1 hour with 6% H2O2 in 1× PBST, washed 3× 5 minutes with 1× PBST, treated with proteinase K (10 μg/ml) for 15 minutes, washed once for 10 minutes with 2 mg/ml glycine in 1× PBST, washed 2× 5 minutes with 1× PBST, postfixed for 20 minutes in 4% PFA and 0.2% glutaraldehyde in 1× PBST, and washed 2× 5 minutes in 1× PBST. The embryos were treated for a slow equilibration in the hybridization solution by incubating them 1× 10 minutes in a 1:1 mixture of hybridization solution/1× PBST, 1× 10 minutes in hybridization solution, 1× 60 minutes in hybridization solution at 70°C. The hybridization solution was replaced with fresh hybridization solution together with digoxigenin-labeled antisense-RNA probes and incubated O/N at 70°C. The embryos were washed 3× 30 minutes in prewarmed solution I (50% formamide, 5× SSC, pH 4.5; 1% SDS) at 70°C, 3× 30 minutes in prewarmed solution III (50% formamide; 2× SSC, pH 4.5) at 65°C, 3× 5 minutes in 1× TBST (25 mM Tris, pH 7.5; 150 mM NaCl; 2 mM KCl; 0.1% Tween-20) at RT, and subsequently incubated 1× 2 hours in blocking buffer (10% heat-inactivated sheep serum; 0.1% Boerhinger Mannheim blocking reagent; 1× TBST) at RT. After blocking, the anti-digoxigenin-AP antibody/Fab fragments (Roche, Mannheim, Germany) diluted in fresh blocking buffer were added to the embryos and incubated O/N at 4°C. The embryos were washed 3x 5 minutes and 6× 1 hour in 1× TBST at RT, O/N in 1× TBST at 4°C, 3x 10 minutes in NTMT (100 mM NaCl; 100 mM Tris–HCl, pH 9.5; 50 mM MgCl2; 0.1% Tween-20; 2 mM levamisole) at RT, and then developed in the dark in reaction mix (NBT/BCIP stock solution (Roche) diluted 1:50 in NTMT). When the reaction was judged complete, the embryos were washed 1x 10 minutes in PBST, postfixed 10 minutes in 4% PFA at RT, washed 3x 5 minutes in 0.1 M PBS, and stored in 0.1 M PBS at 4°C. For documentation, embryos were cleared in 100% glycerol and photographed with an AZ100 Multizoom microscope (Nikon). Probes: Shh, Ptch1[16], Sox10 (kindly provided by Peter J. Scambler), Hand1 ([33], kindly provided by Eric Olson), Nkx2.5 (kindly provided by Thomas Braun), Gli1 (kindly provided by Sandra Blaess).
Conclusions
In conclusion, we show for the first time that the ciliary protein Ift88 is essential for the permanent establishment of cardiac cilia, and that reduced expression levels of this protein result in congenital heart abnormalities in later embryogenesis, including OFT and AVSD. In consideration of the high incidence of AVSD in human congenital heart defects, the relatively small fraction of cases with a clear genetic cause, and the high variability in both penetrance and expressivity of these cases and in corresponding animal models [89], our data point to a potentially important linkage to genes of the IFT machinery or basal body of the cilia.
Note added in proof
Primary cilia have previously been reported in the embryonic ventricle and pericardium of the chick and the mouse [90].
Authors' information
KLT and KG are experienced anatomists in the Institute of Anatomy at the University of Heidelberg and together have been performing ultrastructural and molecular analysis of mutants in ciliary function for the past nine years. MW is a graduate student in the laboratory of KLT, who has spent the past six years investigating the cbs mutation. HARG is a pathologist who has been consulting with KLT for 20 years on all matters of anatomy and mouse knockout analysis.
Abbreviations
ASD:

Atrial septum defect
AVSD:

Atrioventricular septum defect
BBS:

Bardet-Biedl syndrome
Bmp2:

Bone morphogenetic protein 2
Bmp4:

Bone morphogenetic protein 4
cardiac NCC:

Cardiac neural crest cells
cbs :

cobblestone
DAPI:

4'-2-diaminidino-2-phenylindole
DH20:

Distilled water
E:

Embryonic day
ECC:

Endocardial cushions
H & E:

Hematoxylin and eosin
Hh:

Hedgehog
IFT:

Intraflagellar transport system
O/N:

Overnight
OFT:

Outflow tract
PBS:

Phosphate-buffered saline
PCR:

Polymerase chain reaction
PFA:

Paraformaldehyde
PKD:

Polycystic kidney disease
PTA:

Persistent truncus arteriosus
RT:

Room temperature
Shh:

Sonic hedgehog
TEM:

Transmission electron microscopy
VSD:

Ventricular septum defect
WISH:

Whole mount in situ hybridization.
Declarations
Acknowledgements
The authors were supported by the German Research Society (DFG SFB 488, Teilprojekt B9). This funding body did not play any role in the design, acquisition, analysis, or interpretation of data, nor did it play a role in drafting the manuscript or revising it critically for intellectual content. The authors would like to thank Joachim Kirsch for generous scientific support; Xiao-Rui Sun, Henning Falk, Elisabeth Abs, and Fernando Topfstedt for excellent technical assistance; Katrin Huber for the Bmp2 and Bmp4, Thomas Braun for the Nkx2.5, Eric Olson for the Hand1, Axel Schweickert for the Pitx2c, Sandra Blaess for the Gli1, and Peter Scambler for the Sox10 in situ probes; Johannes Backs for the anti-α-actinin and Tamara Caspary for the anti-Arl13b antibodies; Christoph Körber for help with three-dimensional reconstructions; and Rolf Nonnenmacher for the schematic drawings of the OFT reconstructions. Confocal and bright field microscopy was performed at the Nikon Imaging Center (University of Heidelberg).
Authors' Affiliations
(1)
Interdisciplinary Center for Neurosciences, University of Heidelberg, Heidelberg, Germany
(2)
Institute of Anatomy and Cell Biology, University of Heidelberg, Heidelberg, Germany
(3)
AstraZeneca, Waltham, U.S.A
Copyright
© Willaredt et al.; licensee BioMed Central Ltd. 2012
This article is published under license to BioMed Central Ltd. This is an Open Access article distributed under the terms of the Creative Commons Attribution License (http://creativecommons.org/licenses/by/2.0), which permits unrestricted use, distribution, and reproduction in any medium, provided the original work is properly cited.